Save on Career Education through Lorman Education

Our readers are offered a discount on Lorman seminars and courses. Check out their business, management and legal offers at this link to qualify for our discounts. They also offer green business training opportunities. Please visit http://www.lorman.com/training/CaliforniaGreenSolutions for a complete listing of courses. Register online or call Lorman at 866-352-9539.

October Online Courses for Business & Career Upfits
Lorman Education offers a 25% discount to California Green Solutions readers -- here's how to get better prepared for the upcoming health care, green and finance reforms that will affect your management job. We're glad to provide our readers with this Lorman special offer.

ADVERTISEMENT

SAVE 25%
Special discount for our readers!
PS: TO SAVE 25% REMEMBER TO USE THE CODE: X7152134

Members receive a 25% discount on all orders.
You may register online or call Lorman at 866-352-9539.
Please use Priority Code 16148 and Discount Code X7152134 when registering.

Here is a list of upcoming seminars and courses:

Seminars:

Understanding the Impact of Health Care Reform
Oakland, CA - October 26, 2010

Construction Lien Law
Bakersfield, CA - October 29, 2010

Teleconferences:

10 Employee Handbook Mistakes You Can't Afford to Make
October 1, 2010

Understanding the Role of the Trust Protector
October 1, 2010

Recruiting on a Limited Budget: Proven Low and No Cost Tools and Approaches
October 4, 2010

Basic Principles of Construction Insurance
October 5, 2010

Real Estate and Land Valuation in Depressed Markets
October 5, 2010

What You Need to Know About Section 404 Permits
October 5, 2010

Portal to Portal Act: Determining Hours Worked at the Start and End of the Work Day
October 5, 2010

The Evolving Role of Financial Assurance and Disclosure in U.S. Environmental Laws
October 6, 2010

Immigration Issues for Construction Professionals
October 7, 2010

Mental Illness and the ADA
October 7, 2010

Utilizing Data in Microsoft Access®
October 8, 2010

Health Care Reform Update
October 8, 2010

When Wages are Not FICA Wages
October 11, 2010

Wellness Programs: Underlying Legal Requirements and Impact Developments
October 12, 2010

Commercial Ground Leases: A Conceptual Framework
October 13, 2010

Labor Law: Could 2011 Be the Turning Point for Unions?
October 13, 2010

Emerging Trends in Metal Roofing
October 14, 2010

Essentials of Massachusetts Garnishment Laws
October 15, 2010

New Features and Functions in Updating to Excel® 2007
October 18, 2010

S Corporations: How to Avoid Common and Often Overlooked Pitfalls (Simple to Complex)
October 19, 2010

Family Responsibility Discrimination Law: Family Friendly Employer or Litigation Target?
October 20, 2010

Agreements of Sale and Due Diligence in Commercial Real Estate Transactions
October 20, 2010

Managing Construction Costs
October 20, 2010

Land Development Right Transfer Issues and Complexities
October 22, 2010

Mental Illness and the ADA
October 25, 2010

Wellness Programs: Underlying Legal Requirements and Impact Developments
October 26, 2010

Construction Joint Ventures: Benefits and Pitfalls
October 26, 2010

Land Use Law Update
October 26, 2010

Implementing An Indoor Air Quality/Construction Hygiene Plan
October 27, 2010

Medicare Secondary Payer Act: Protecting Medicare's Interest In Insurance Settlements
October 27, 2010

Jeopardizing Exempt Status
October 28, 2010

Surety Bonds and Contract Provisions
October 28, 2010

California Water Law Update: Rights, Transfers and Supply Assessments
October 29, 2010

Please visit http://www.lorman.com/training/CaliforniaGreenSolutions for a complete listing of courses. Register online or call Lorman at 866-352-9539.



In Partnership With: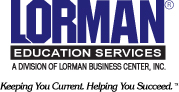 Edited by Carolyn Allen